Intercultural festival showcases cooking demos

Intercultural Festival showcases cultural cooking demos
Contact: Nicol Tinsley
Global Education Office
804-828-6643
nctinsley@vcu.edu
Richmond, VA (June 3, 2021) — Three Virginia Commonwealth University international students showcased their culinary talents during the university's Intercultural Festival last month. The festival, held annually each spring, is a student-organized event dedicated to celebrating the cultural diversity of VCU and the surrounding community.
During the festival which was held virtually this year, Baotran Yo prepared fresh spring rolls and a dipping sauce, a Vietnemese appetizer; Saheli Das taught viewers how to cook mustard fish and prawns, a specialty from India; and Lindai Xie prepared a spicy hot pot with squid and pork, in addition to giving a presentation exploring many aspects of Chinese culture and food.
Take a look at the presentations, get your ingredients and prepare these delicious dishes in your own kitchen!
Baotran Vo
Country: Vietnam
Dish: Fresh Spring Rolls
Baotran demonstrated how to prepare the Vietnamese appetizer,
fresh spring rolls. She taught the virtual class how to make this easy dish, complete with the accompanying dipping sauce.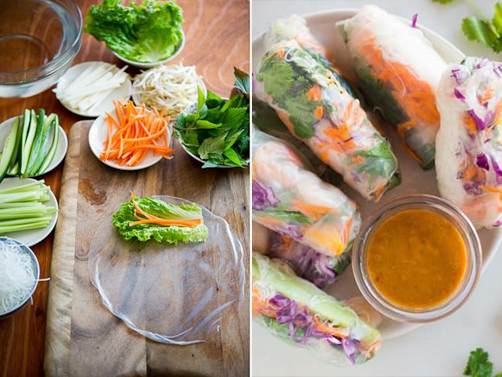 Ingredients
rice paper wrapper
thin rice noodles
large shrimp
butter lettuce
carrot
cucumber
bean sprouts
cilantro and mint
Dipping sauce
Hoisin sauce
garlic chili sauce
peanut butter
peanuts
brown sugar
onion
lime/lemon
Recipe
Step 1
Bring a medium sauce pan of water to boil. Boil rice vermicelli three to five minutes, or until al dente, pour over cold water and drain. (Or you can follow the intructions on the package of the rice vermicelli.)
Step 2
All vegetables need to be washed. Cut carrots and cucumbers into long and thin shapes as in the image.
Boil shrimp and divide in the middle of shrimp into two halves.
Step 3
Fill a large bowl with warm water. Dip one wrapper into the hot water for one-two seconds to soften. Lay wrapper flat. In a row across the center, place three shrimp halves, a handful of vermicelli, basil, mint, cilantro and lettuce, leaving about two inches uncovered on each side. Fold uncovered sides inward, then tightly roll the wrapper, beginning at the end with the lettuce. Repeat with remaining ingredients.
Note: You can replace shrimp with tofu, pork or any meat you like, or combine all if you want.


Step 4

Dipping sauce

In a small pan, add a little bit of oil, ¼ of onion, mix six spoons of Hoisin sauce and three spoons of peanut butter, three to six spoons of the water after boiling shrimp (or coconut water or tap water), one spoon of brown sugar and one spoon of chili sauce (optional if you want it spicy), and lime juice. Pour dipping sauce into a bowl, pour smaill, chopped peanuts on top of dipping sauce.


Step 5
Serve rolled spring rolls with the dipping sauce.
---
Saheli Das
Country: India
Dish: Mustard Fish and Prawns
Saheli demonstrated how to prepare mustard fish and prawns, providing suggestions of the best fish to use for the recipe.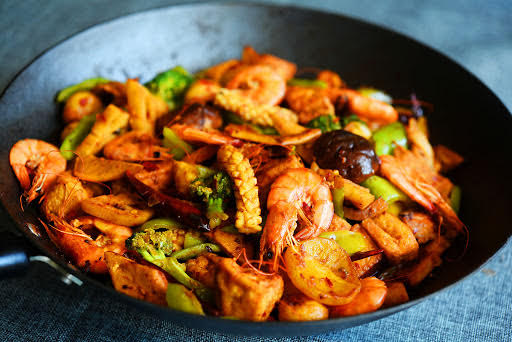 Ingredients:
1.5 -2 lb white fish
1 lb. prawns
(raw and deveined)
mustard oil


Season to taste:
mustard powder
whole black mustard seed
whole yellow mustard seed
shredded coconut/coconut milk
green thai chilis
salt
sugar
cilantro
turmeric powder
whole bay leaf
whole green cardamom
whole cinnamon
whole clove
Nigela seeds/Kalonji
1 lb. tomatoes
fresh ginger
---
Lindai Xie
Country: China
Dish: Spicy Hot Pot
Lindai demonstrated how to prepare the Chinese dish, spicy hot pot, also providing an informative presentation on the Chinese cuisines of varying provinces, the best restaurants found in Richmond, an overview of myths about China and an interesting explanation of Chinese tea culture's "finger tap rules."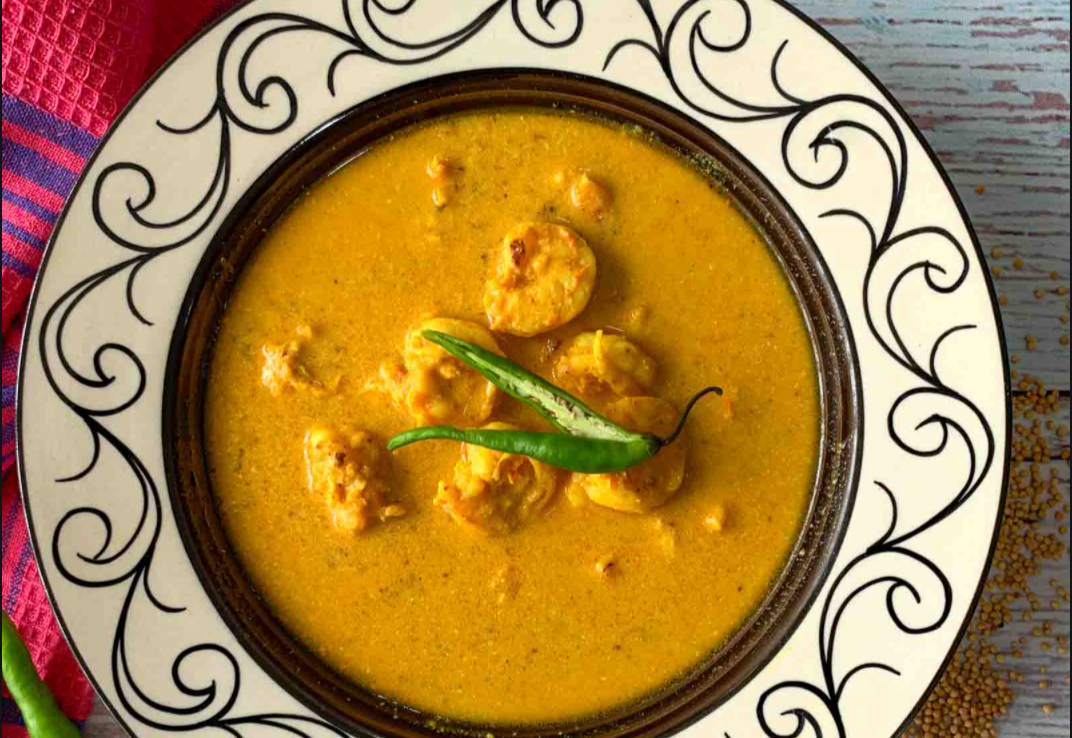 Ingredients:
chili
oil
hot pot seasoning
green onion
squid
onion
ginger
coriander
white sesame
pork belly
crab stick
potatoes
Chinese cabbage
rice cakes