2014-15 News
May 29, 2015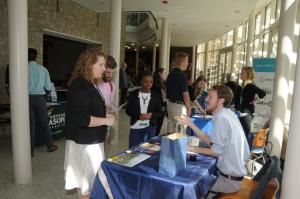 Students learn about international professional opportunities at the recent Lessons from Abroad conference.


‌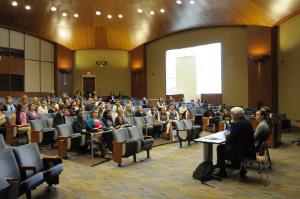 VCU Study Abroad students from various colleges and universities view presentations about educational and professional opportunities after re-entry.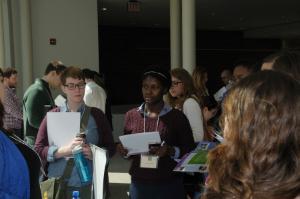 VCU Education Abroad students learn about the professional opportunities available to them after returning from studying abroad.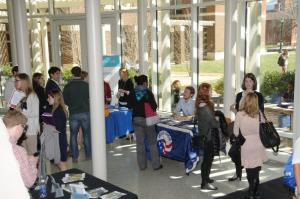 Educational and professional vendors provide information on further benefits from the students' study abroad experiences.
By: Nicol Tinsley
Global Education Office
(804) 828-6463
nctinsley@vcu.edu


RICHMOND, VA (May 29, 2015)—The Virginia Commonwealth University Education Abroad office participated in Virginia's first "Lessons from Abroad" conference held recently at the University of Virginia. This inaugural conference, designed for students from colleges and universities across Virginia who have studied abroad, helps students understand more about their time abroad and provides guidance on how to connect experiences with professional aspirations and continuing education.
The Education Abroad office took 23 VCU former study abroad students to the conference. In addition, the conference attracted a total of 157 students, exhibitors and presenters from 18 Virginia colleges and universities.
Sarah Carrier, Education Abroad academic advising coordinator, and Kelly Chroninger, student adviser, served as content co-chairs for the conference."LFA allows us to provide a unique returnee experience for VCU students, where they can network with other students, learn more about their career options and opportunities and think critically about how their time abroad changed them," said Carrier. "It's also a way to get all of our returnees together for a professional development opportunity, and for them to figure out what their next steps are after returning from studying abroad."
"LFA is all about connection," said Chroninger. "We help returnees stay connected to their experience, to each other and to possible future careers and professional opportunities."
As content co-chairs for the conference sessions, Carrier and Chroninger attempted to provide a comprehensive selection of presentations that catered to a wide variety of returnee interests. "Many returnees want to pursue jobs in international fields so we included presentations from the state department and TESOL representatives spoke about how to pursue jobs teaching English abroad," said Carrier. In addition, the team secured schools to talk about graduate programs in the international fields because, according to Carrier, many returnees express an interest in wanting to go abroad again.
"After hearing speakers discuss their involvement with TESOL and other teaching abroad options, I was so excited to know that there are options for someone like me who wants to pursue teaching, but not in the traditional sense," said Carlie Muessig, a senior who studied abroad in the Netherlands. "I've been researching different TESOL certification programs in the state and plan to volunteer with an ESL program this summer. The guidance provided has given me such a feeling of certainty about my future in that I know I can find job security and still enjoy what I'm doing."
Jack Miller, a senior who studied abroad in Germany, also had an enlightening experience from attending the conference. "I went to the LFA conference hoping to rediscover how to live in the US. I came away from it having discovered entirely new ways to live and work abroad," he said.
The Education Abroad office currently provides some resources for returning study abroad students including a returnee orientation that is held in the fall and spring. In addition, resources are provided to help guide students with their re-entry process. Although these tools help the students with re-entry, Carrier feels the conference is an additional resource that provides a unique opportunity to meet and talk with professionals who are able to provide even more guidance about how students can use their experiences in their professional lives.
"We saw a need for the conference because we work with a lot of students who return and want guidance about having an international career. This conference puts a lot of resources in one place for them," she said.
Going forward, the Virginia LFA conference is slated to be held at a different Virginia school each year. Next year's conference is scheduled for January 2016, and will be hosted by VCU. Carrier and Chroninger will once again take on roles as co-chairs, but this time they will be in charge of the entire conference.
The Lessons from Abroad Study Abroad Returnee Conference, held at colleges and universities across the U.S., began at the University of California at Berkeley in 2008, with educators seeing the need to help students process the experiences they gained while studying abroad after returning to the United States. To date, more than 2,000 students have participated in "Lessons from Abroad" conferences and more than 250 professionals have volunteered their time with the conference.