2016-17 News
April 4, 2016

Faculty from China receive medical and English training at VCU
For Immediate Release
Contact: V. Renee Russell
VCU Global Education Office
Phone: (804) 828-3636
vrrussell@vcu.edu
RICHMOND, Va. (Apr. 4, 2016) — Over the last six months, a cohort of faculty from Youjiang Medical University for Nationalities in Guangxi, China has participated in a medical faculty development program hosted by Virginia Commonwealth University.
Since October 2015, twenty-two faculty members have participated in the YMUN Education Qualify Project, which consisted of four months of English language training through VCU's English Language Program, one month of lectures focused on medical pedagogy, and one month of tours and observations of medical classes, both through the School of Medicine.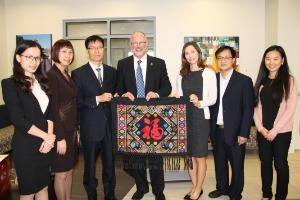 "This is one of those rare programs that address all three of VCU's global priorities," said VCU senior international officer, R. McKenna Brown, Ph.D. "It engages a significant number of high level practitioners in interactions that highlights the exemplary quality of our institution. Meanwhile, they are sharing expertise and cultural perspectives which is incredibly enriching for our faculty and students. Additionally, this program continues the expansion of VCU's global footprint as a premier urban research institute."
"This program showcases what happens at VCU when we partner with our outstanding academic units to launch unique and innovative programs that put us on the map, and really get the VCU name out there," said global outreach director, Emily Ferlis, Ph.D.
Participants in the program benefited significantly from the initial English training component which set the stage for their participation in lectures offered on the MCV campus. "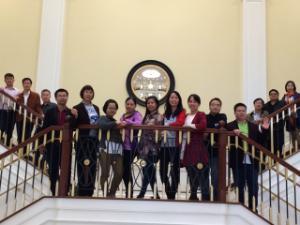 The first four months of medical English training really prepared us for the lectures at MCV," said Meijuin Wei, a nurse in the nephrology department at YMUN. "The lectures offered on the medical campus were so interesting and professional. The professors really connected with us, and opened opportunities for us to do research, which was very useful."
‌Teachers themselves, the doctors noticed significant differences between medical pedagogy in the U.S. compared with that of China. "I like the classroom discussions here, because you can mix many opinions when you have that interaction between teachers and students," said Xiaohua Huang, a neurologist at YMUN. "If you don't have those discussions, the way you look at the world will be more narrowed, and as teachers, we don't know if students have grasped the knowledge or not."
"Here, there is a lot of face-to-face training," added Yan Liu, a cardiovascular doctor at YMUN. "It's a wonderful training method."
The participants found that they learned a great deal about academic life in the U.S. outside of the classroom as well. "The program here was much more than I was expecting," Liu said. "The campus and the environment can improve you. The students take their learning very seriously. They know their goal and you can learn from them."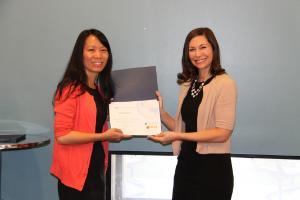 In addition to their educational experience, the program participants gained significant insight into U.S. culture through this experience. "The teachers have been very kind and patient with us, and the people here are extremely friendly to foreigners," said Wei.
"Everyone has been so warm to us," added Liu. "On the bus, in the market, in the mall – no matter where we went, people have been welcoming and helpful."
Established in 1958, YMUN is located in Baise, the center city for the west of Guangxi Zhuang Autonomous Region of China. It is one of the four medical universities in Guangxi and the only university in China of its kind that focuses on providing medical education to the ethnic minority population.
The university consists of 7 faculties in preclinical medicine, clinical medicine, nursing, medical laboratory science, international education, public health and management and continuing education.
The partnership between VCU and YMUN was established in 2014. As the partnership between the two universities strengthens, YMUN is interested in pursuing collaboration with MCV in other areas and forms, including visiting scholar programs and join research.