Macy Pressley

Gilman scholarship recipient speaks about studying abroad with a disability
Contact: Nicol Tinsley
VCU Global Education Office
Phone: (804) 828-6463
nctinsley@vcu.edu

RICHMOND, Va. (Feb. 13, 2020) ― Virginia Commonwealth University sophomore Macy Pressley recently spoke to students and staff about how she managed a debilitating disability and forged into a six-week study abroad adventure in New Zealand.
Pressley, a digital journalism major, earned a Benjamin A. Gilman International Scholarship to study abroad last summer while diagnosed with Post-Traumatic Stress Disorder (PTSD). After losing her grandparents in a flash flood in May 2018, Pressley was diagnosed with her disability that caused severe symptoms to manifest including panic attacks, dissociative episodes, isolation and Agoraphobia.
"I have always wanted to study abroad," she said. "I decided that if I didn't study abroad, I was going to regret it for the rest of my life. So I decided to make it happen."
Extensive therapy allowed Pressley to improve and she applied for the National Expedition and Internship, a program that would push her out of her comfort zone.
Coordinated through Massey University, the program encompasses a two-week study tour across the North and South Islands of New Zealand, followed by a four-week internship with the Department of Conservation.
To Pressley's surprise, even the application process would take more effort than she anticipated. Upon applying, the host university expressed reservations about her success in the program due to her disability and she was required to provide a doctor's note stating that she could handle the program. In addition, she was required to write an essay explaining the disability and why it would not cause any issues.
To continue the application process, Stephanie Tignor, director of VCU's Education Abroad office and Pressley's adviser, became an advocate for her.
"As we do with all students we serve, we were happy to help Macy navigate the sometimes tricky process of applying to and preparing for her study abroad program," said Tignor. "We do our best to support all students by connecting them to resources and opportunities that fit their needs and goals and being there along the way if and when there are challenges or questions," she said.
Pressley was grateful for the advocacy provided on her behalf. "They [the university] were aware that I had people in my corner and that made it better," she said.
"They say you're your own best advocate. But that doesn't mean you have to be your only advocate."
Pressley expressed why she feels others with disabilities should study abroad. "Disabilities are not liabilities," she said. "In my experience, students with disabilities tend to be empathetic, are good advocates for themselves and others and are exceptionally passionate."
"I think studying abroad is part of how we fight for and get our seat at the table to contribute to world conversations in meaningful ways," she said.
Pressley stressed that students should research extensively to learn about accessibility services at the interested location or school. She also advised students to know the advocates in the Education Abroad office as well as at the host institution and to be familiar with students' rights.
"Always stand up for yourself," she said to students. "You don't have to compromise ableism. You are an amazing person and you have a great impact that you can make. Do not ever feel the need to apologize for that."
VCU's Education Abroad office supports providing access to all students so they may benefit from cross-cultural experiences. Great importance is placed on including diverse students such as those with disabilities due to the value they add to the program.
"As Macy also pointed out in her presentation, individuals with disabilities have much to contribute and are often even better prepared for the challenges of participating in study abroad than individuals without disabilities because of their familiarity with adapting to environments that don't always understand their needs and abilities," said Tignor.
"Their resilience and determination make them the perfect candidates to successfully engage and take advantage of all that studying abroad has to offer," she said.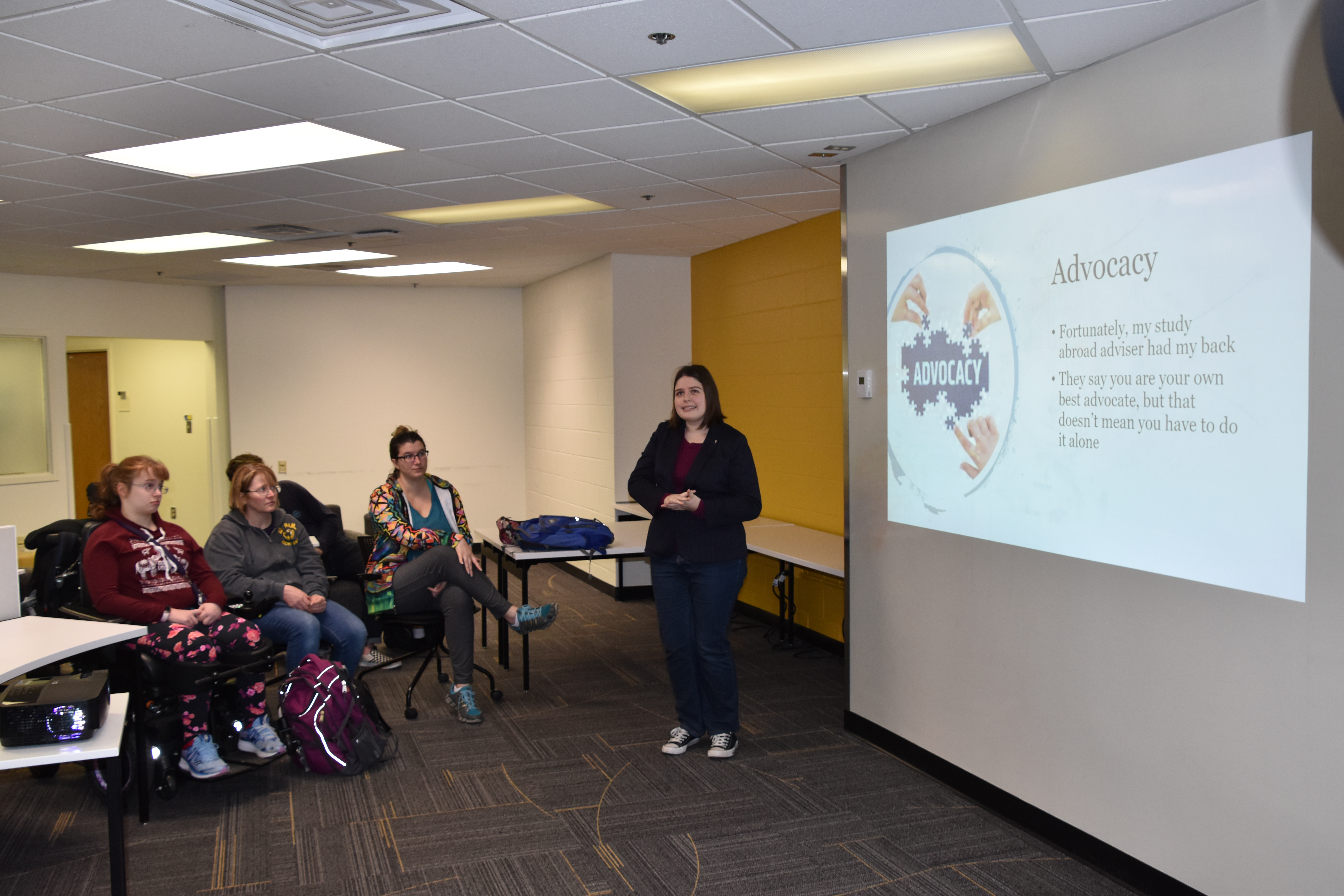 Sophomore Macy Pressley speaks to students about the challenges of studying abroad with a disability.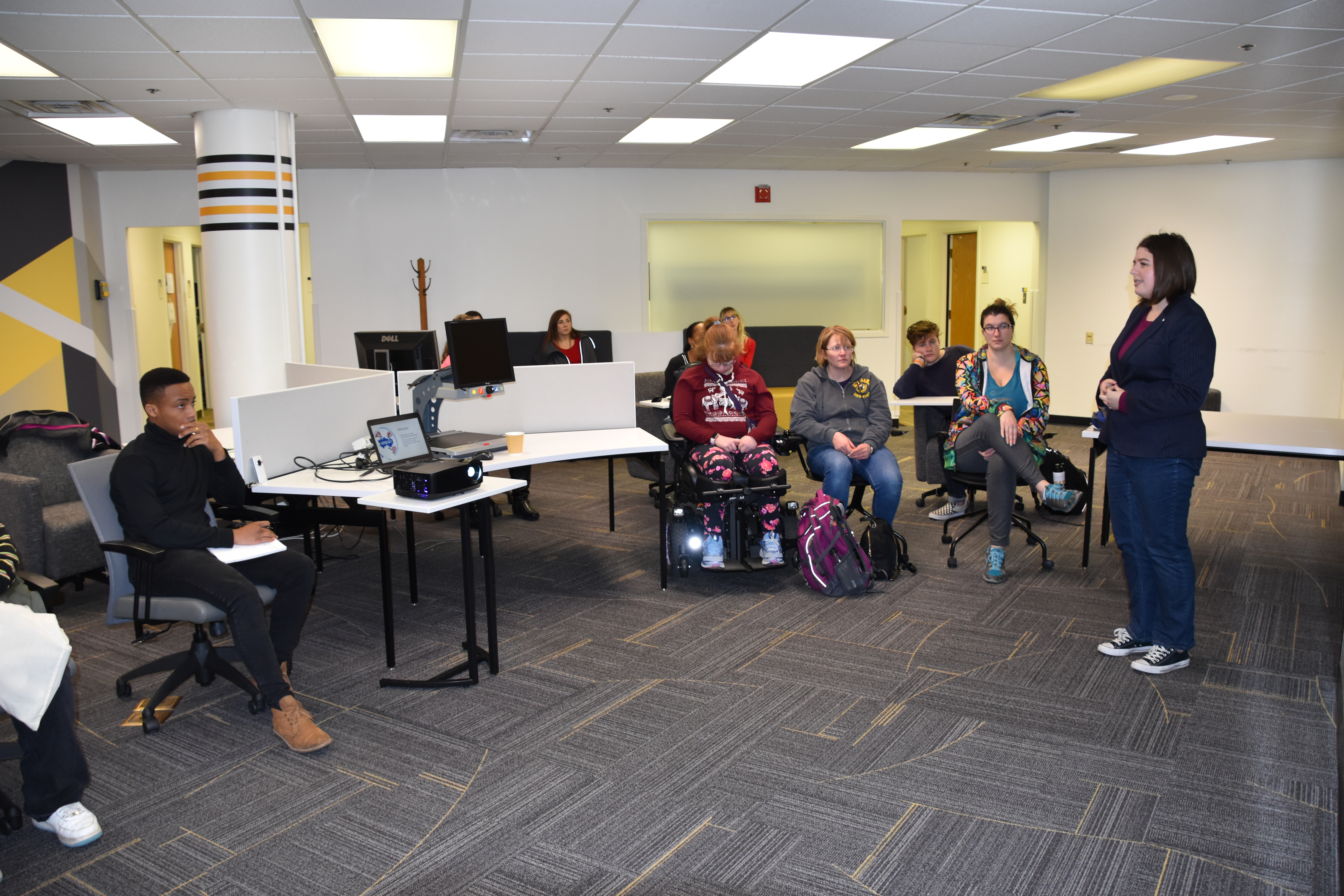 Sophomore Macy Pressley speaks to students about the challenges of studying abroad with a disability.