Kazakh leaders explore democracy and governance at VCU

Kazakh leaders explore democracy and governance at VCU
Contact: Renee Russell
VCU Global Education Office
Phone: (804) 828-3636
vrrusell@vcu.edu
global.vcu.edu
Richmond, VA (Feb. 6, 2020)
—From its recognition as the ancestor of today's common apple to being the ninth largest country in the world, Kazakhstan is a unique place rich in natural resources and cultural diversity.
Virginia Commonwealth University
students, faculty and staff discussed these and many other aspects of the region in a presentation by the Open World Leadership Center Kazakh delegation that visited campus last week.
Hosted by the Global Education Office, the Open World Program brings emerging leaders from participating countries to the United States in order to give them first hand exposure to the American system of participatory democracy and accountable governance.
"Programs like Open World give leaders from other countries the unique opportunity to learn about different aspects of the United States first hand, from governance systems to the media to cultural institutions," said Jill Blondin, Ph.D., executive director of the Global Education Office. "The leaders also interact with VCU students through presentations and rich discussions, and this exchange enables them to learn from each other."
The delegation included five government officials and a cultural assistant:
Mr. Aidar Sadyrbayev, deputy akim (mayor), Semey City
Mr. Batyr Abdrakhayev, deputy akim (mayor), Satpayey City
Ms. Mereke Myrzabekova, Head of Unit, Internal Policy, Zhezkazgan City
Ms. Mira Kazbekova, deputy akim (mayor), Kyzlorda City
Mr. Rustam Alpysbayev, Department Head, Internal Policy, Almaty Oblast
Ms. Aigul Zholdasbayeva (Program Facilitator), Cultural Assistant, U.S. Embassy, Kazakhstan Republic
While in Richmond, the delegates explored state and local government, as well as legal systems through seminars hosted by VCU faculty in the Robertson School of Media and Culture and L. Douglas Wilder School of Government and Public Affairs.
In addition, they met with the Virginia General Assembly's Senate Finance and Transportation committees, with representatives from Dominion Energy, the Virginia Public Access Project and CBS 6 TV, and received a tour of the Virginia Museum of Fine Arts led by director Alex Nyerges.
The delegates stayed in the homes of local Richmond residents, who served as hospitality hosts.
Established in 1999, the Open World program has more than 29,000 alumni and a network of more than 9,000 host families in nearly 2,100 communities throughout the United States. This marks the ninth year that VCU has hosted a delegation through the Open World Leadership Center.
For more information about global programs facilitated by Virginia Commonwealth University, please contact the Global Education Office at (804) 828-8471.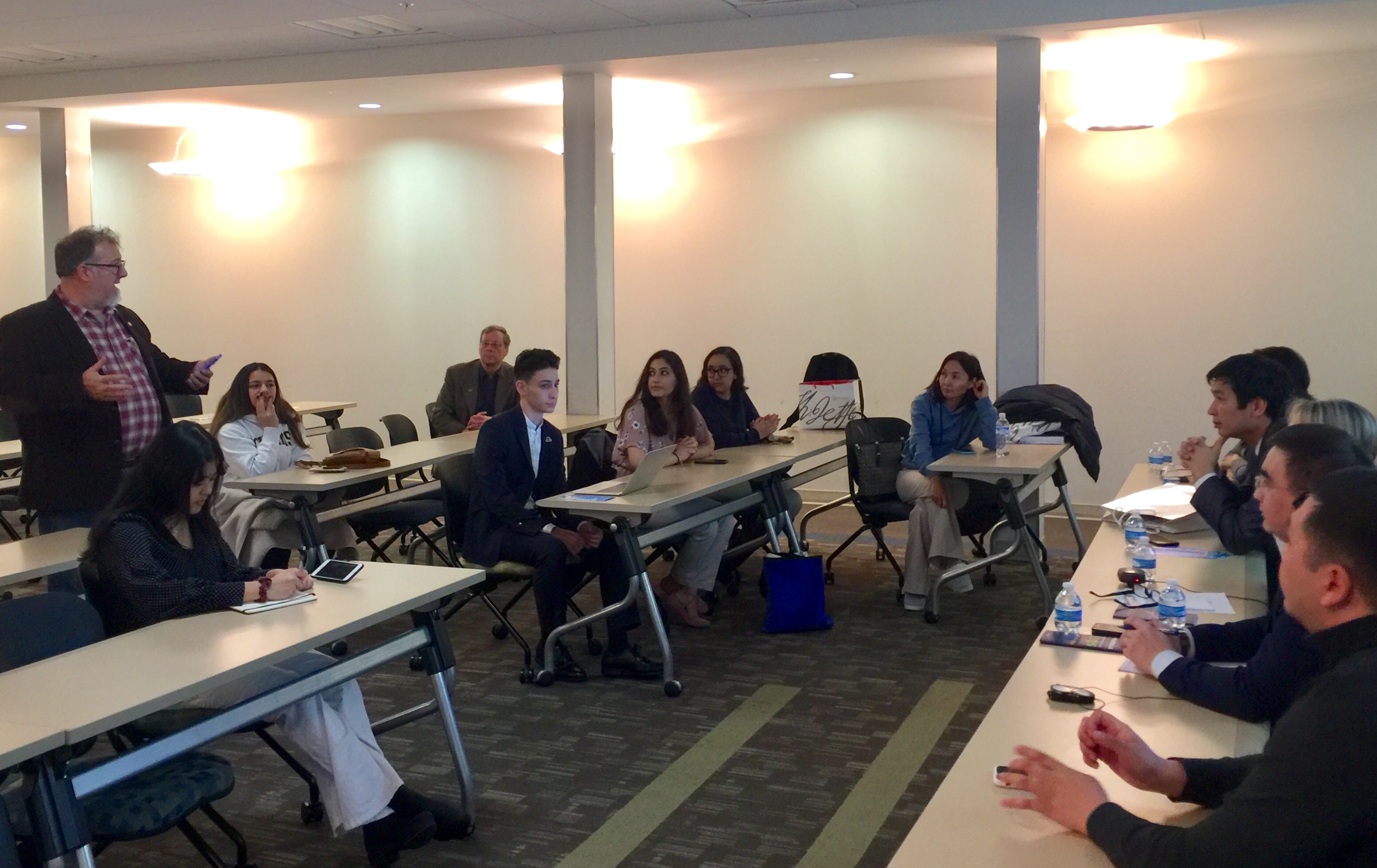 Open World Leadership Center Kazakh delegation gives presentation and conducts discussion with VCU faculty and staff.