VCU Globe Graduation 2020

VCU Globe graduates encouraged to seek entrepreneurial opportunities
Contact: Nicol Tinsley
VCU Global Education Office
Phone: (804) 828-6463
nctinsley@vcu.edu
global.vcu.edu
RICHMOND, Va. (Feb. 7, 2020) ― Brad Farnsworth, vice president of global engagement of the American Council on Education, encouraged the fifth VCU Globe graduating cohort to look beyond seeking traditional nonprofit jobs as he delivered the keynote address during the graduation ceremony held last week.
"There all kinds of entrepreneurial opportunities in international education," he said. "And if you don't find the business you want to work for, it's possible to create your own."
In his remarks, Farnsworth advised students about navigating an international education career, citing examples from his career path. Acknowledging that while working for nonprofits is admirable, he noted working in the private sector can be a different way to further one's desired agenda.
Farnsworth began his address by providing an overview of his work in China, presenting a pictorial summation of his time working there. He continued to give the students several points of advice to encourage them in their future pursuits, explaining how they might best use their knowledge and interest in international affairs.
"If you have a really interesting problem that you want to work on, there are businesses that are interested in talking to you," he said. "Some of them might be nonprofit, some of them do make money. And if you find that they make money, don't be embarrassed. That's okay. There are ways that you can change the world and make money at the same time."
Farnsworth advised the students to learn about federal policies, something he found necessary to keep abreast of throughout his career. "Whether it's in the business or nonprofit areas, spend time learning about policy," he said. He expressed how he feels it is important to know "how your government is supposed to work."
He also explained that he learned to communicate with others who are very different from himself, expounding on his viewpoint that current national relations with China are due to strained communication issues existing today.
"I think that the program you've been through, even though your program is designed to talk to community and relate to other cultures, the skills you've acquired here are transferable to domestic context. I believe those intercultural skills required are something that can help you solve some of the domestic issues that we're seeing in this country."
The event recognized the fifth cohort of 91 students who have completed VCU's largest living-learning program. The graduating class received certificates after completing requirements that include additional courses, completing service hours and cultural immersion. Among the graduates, 37 students earned the Peace Corps Prep certificate, denoting they are prepared to apply to the Peace Corps.
Two students were selected by their peers to reflect on their time in the program. Senior Madeline Doane, a political science and international studies major, spoke of the need to have self-love and how she was able to achieve that through the VCU Globe programs.
"VCU Globe embodies and promotes the message of spreading love through intercultural appreciation, connection and community engagement," she said.
"Throughout the last three years, I have learned that my passions and who I am may change, and that's okay. It is important that we take care of and love ourselves first and foremost."
Following Doane, students heard from fellow VCU Globe student and senior Swetha Kovvuri, an information systems major who spoke about learning to be yourself, and the importance of fostering and celebrating the unique qualities each person has that impact others around us.
"We create a new worldview, where our differences are what unite us," she said. "So if after all these diplomas, lessons and poems, you still are not sure if you are capable of making an impact, know that you have made an impact on me."
Kovvuri continued to encourage her fellow students to maintain the special qualities that make them who they are, as she has learned to do. She declared, "I'm going to walk to the beat of my own drum because when we do the world can't help but follow."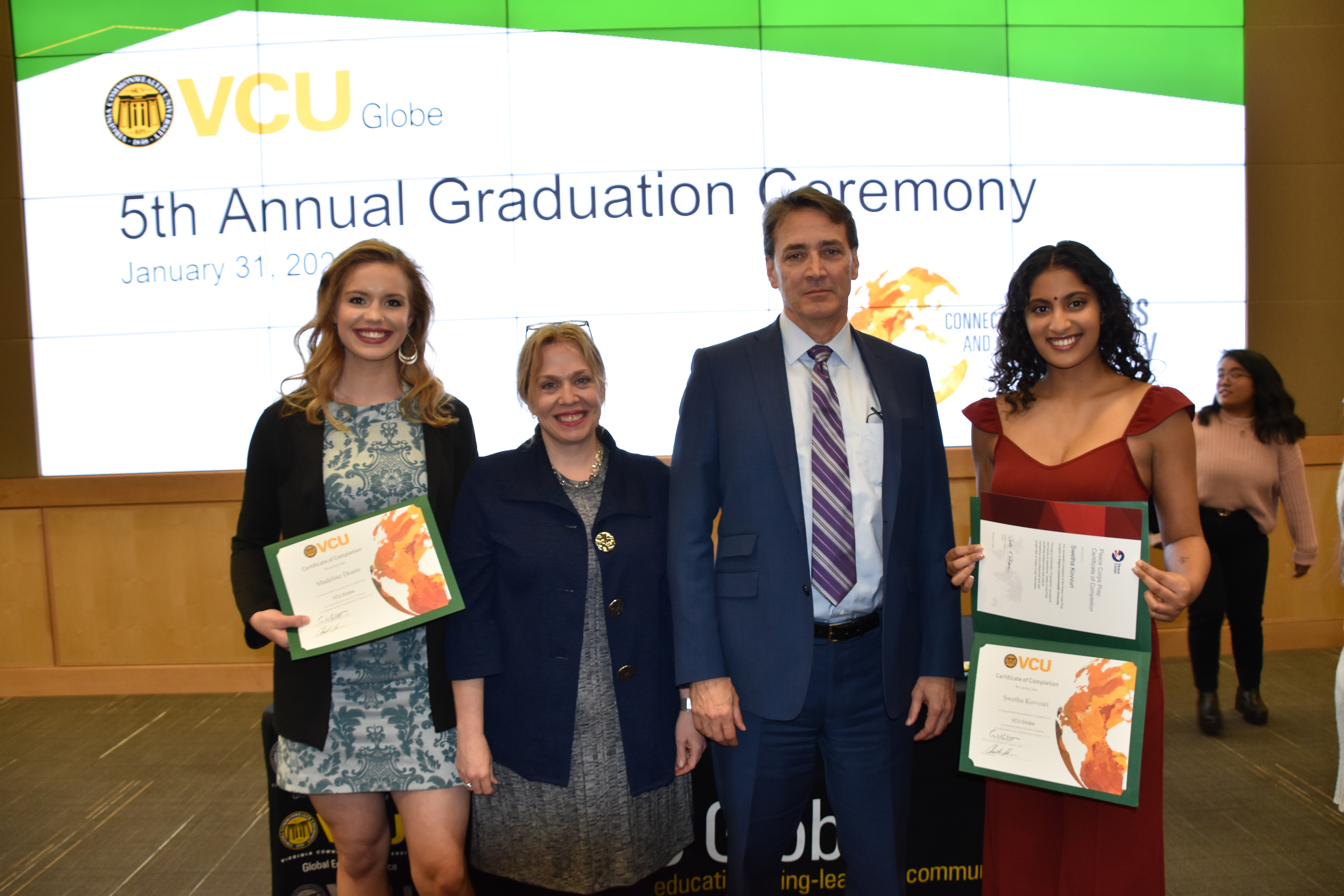 Key speakers of the event and staff celebrate the graduates. (Left to right) Madeline Doane, Executive Director Jill Blondin, Brad Farnsworth and Swetha Kovvuri.